The staff and adoptive parents at Everlasting Adoptions want to thank all birth mothers for their incredible acts of love. Our families wouldn't exist without them. Not a day goes by that we don't recognize how their greatest sacrifice has brought our families their greatest joy. Our adoptive parents reached out to us to share their experiences and how their birth mothers' selfless acts of bravery have forever changed their lives.
"We have adopted both of our children through Everlasting Adoptions and both are the biggest blessings of our lives! In February our daughter, Avalyn Elise, was born. Her birth mother, Hayley, has been so amazing through this process. Truly, we have gained a friend in her along the way. She is humble, caring, and so sweet. We had the pleasure of spending time with her 2 weeks before Avalyn "Ava" was born and then spent 11 days with her after she was born. We have seen the emotions that this incredibly selfless sacrifice brings and we could not be more honored and excited that she chose us! We love our birth mothers dearly and think of them every day. We have been beyond blessed with our gifts of life!" – Gennifer & William
"As mother's day approaches, we plan a family activity to do together to celebrate the gift of motherhood. But, as an adoptive family, we are also reminded of how much we owe to another mother in our lives; our son's birth mom. I could not celebrate mother's day without her. We would not be a family without her. My son wouldn't even be alive without her. What am amazing gift! It is something that can't be taken lightly. To all birth moms who sought or are seeking a family for their children, and especially to our birth mom, Tamecka, thank you so much for exhibiting the kind of selflessness and love this world needs.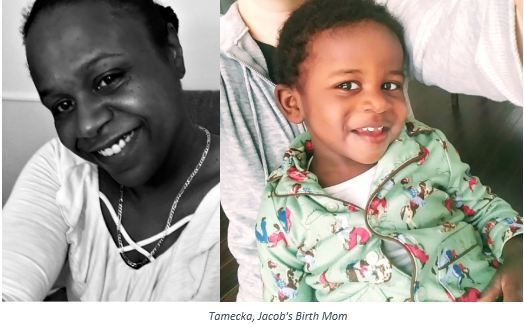 We are especially thankful Tamecka is someone who will be supportive of our son and open to sharing with him his birth family history. Initially while deciding to adopt, a major concern I had was that a birth mom would try to "steal" their affection away, but I now feel comforted knowing that when Jacob seeks a relationship with Tamecka, she will totally support my motherhood while also being an awesome birth mom herself! Shortly after meeting Tamecka, I soon came to see her as another person to love our son, and, really, we could all use one of those!" – Lindsey & Stephen
"The connection with birth mom, Kelly was divine and something we will treasure and cherish forever." – Sara & Brian

"I'm so grateful to Xavier's birth mother for the incredible sacrifice she has made. I cannot imagine my life without this little man." – Barbara

With both Jessica and Jonathan and their birth mom being just a few hours away from each other and in the same state, they had the extraordinary opportunity to develop a deep relationship with Lucia. Not only were they able to get to know Lucia on so many different levels, they were able to get to know her little boy as well. They enjoyed many outings together. From golfing and swimming to apple picking and magic shows, there was never a lack of laughter and smiles when they were around each other! They of course made sure to gather for meals, eating everyone's favorite foods! Lucia, Jessica and Jonathan spent so much time also getting to know the precious baby boy that was kicking away in her belly.

This time together allowed them to share so much about their lives and provided love and support that went much farther than their adoption. Knowing that having an open adoption was crucial to Lucia's adoption plan, being able to spend so much time together allowed them to learn so much about each other and build a strong foundation for their future.

"We had the opportunity to go spend time with our daughter's birth mom and sisters a few months ago and it was a joy! We didn't know what an open adoption would look like, but we have grown to love her birth mom, Jenn, like she's a part of our family. We spent 5 days together in May and had such a sweet time. We don't know what it will look like over the years, but we're confident that our growing relationship with Jenn and her daughter will be an important part of our family forever." – Lisa & Bill

"Our hearts constantly felt love and gratefulness for not only our birth mom, but our genuine connection." – Amber & Jeremy
The stories of love and gratitude for birth mothers are unending. We could never adequately express our appreciation for their courage, but we hope that birth mothers everywhere can take this small gesture as a token of our appreciation.