We were considering another treatment, but every time I would get close to making the doctor's appointment, I would get a pit in my stomach. IVF is a roller coaster ride of emotions, and in our case, it ended in disappointment each time. Once we decided on adoption, I felt relieved and really deeply, it was the right decision for us.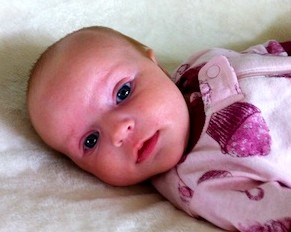 Our process took three and a half years. Yes, it was agonizing at times, but the Everlasting Adoptions staff, especially Carol Shepherd, really helped keep us positive. As Carol is an adoptive parent, she had such compassion, and she never gave up trying to find us the right match.
My advice to other prospective adoptive parents is to not give up! We were literally days away from our Everlasting Adoptions contract expiring when we were matched with our birthmother. The staff at Everlasting Adoptions is not giving up on you so have faith. Lastly, no matter how long it takes, it is very worth the wait. My husband and I feel incredibly blessed to have our daughter and know deep in our hearts that the right child came to us in the right time. Tom and I made the decision to adopt after four failed IVF treatments.
Good Luck to you all on your adoption journey.