Adoption was something that Bill and I had always talked about. We talked about adoption before we even had decided to start a family. We really felt that it was an incredible opportunity to love a child in the way, we believe, God loves us. We had a difficult time getting pregnant with our first son and ended up using fertility treatments. After having Boden, our oldest, we made the decision that adoption would be the way we built our family. We began the process and were a "waiting family" for two months when we found out we were pregnant. We then put the adoption on hold and restarted the process at the end December 2015. We continued to feel called to adopt a baby as a way to love the child and birth parents in a way that is radical and selfless.
After restarting the adoption after having our second son, Jack, our adoption took about 3 months. We restarted on December 24, 2015 and were called on April 4, 2016. The wait was nothing like we had expected. We expected to wait at least a year and were floored when I received the call about our little girl only 3 months into the process.
Because our process was a little unconventional, having to put it on hold for a time, we had a lot of contact with Carol and the staff. I would say that our "rock" through the process was Carol. We had positive experiences with all of the staff, but Carol was the one who helped us to feel most cared for and made the process feel very personalized.
For those parents who are waiting, we remember those months. The most cliche response I'd have would be, it'll happen when you least expect it. In our case I'd also say, be ready for it to happen fast. We thought we'd have time to prepare, but we were notified by Carol about Mila, two days before she was due. During our season of waiting we prayed a lot. We prayed for our birth parents and for our unborn baby. We didn't know when it would be, but we knew that God had already chosen our child for us. We knew that there wasn't anything we could do to make it go faster or slow down, when God ordained for our daughter to come into our family, it would happen…and it would be perfect. Our other advice would be to those of you who have children already. We would encourage you to be talking to your children about it now. Prepare their hearts to be a big brother or sister. Help them to understand adoption and why you want to build your family this way. Also, allow people into your lives to be a part of your journey. It can be painful and its emotional, but we had such a supportive community around us praying fervently, that we felt cared for regardless of the outcome of our situation. If you are called to adopt, your baby is coming. It will be the perfect baby, at the perfect time, through a perfect story.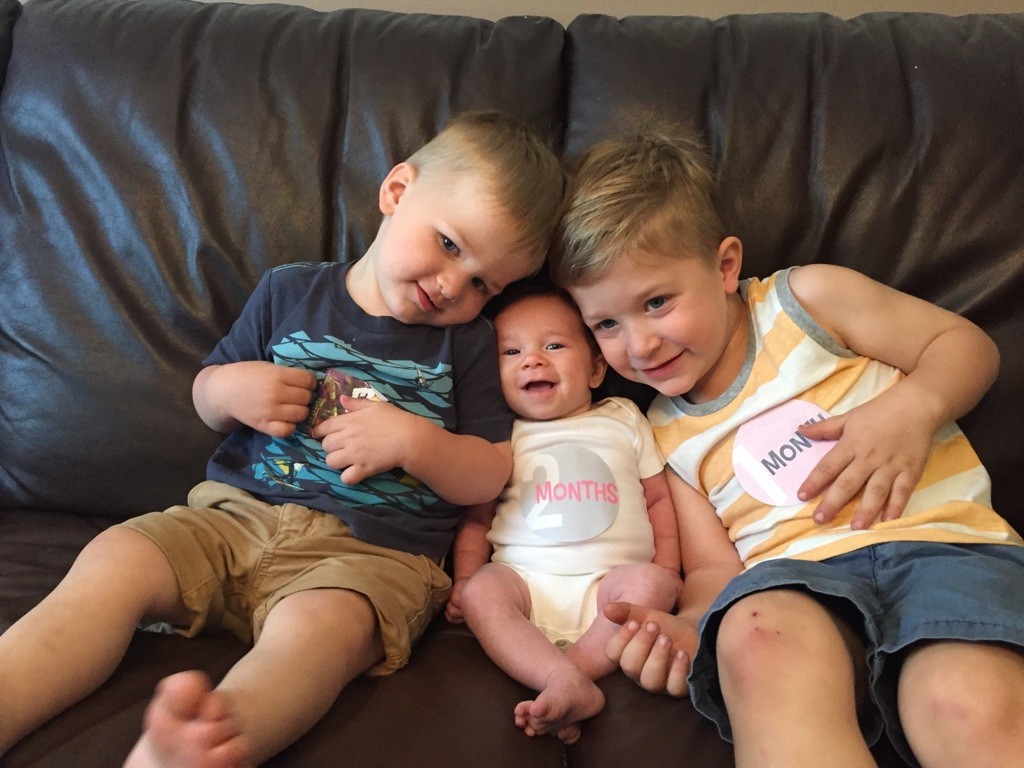 Our experience was phenomenal. The beginning of the process was tedious and felt long, but it was worth every penny. Everlasting's staff was wonderful and went above and beyond to be sure we were pleased with everything from our profile book, to the website, to our monthly updates, and more. When the rubber hit the road and we matched with Jenn, Carol was our backbone and guide through the process. It all went very quickly but there wasn't a time, day or night, where Carol was not available to us. She was texting Jenn at all hours of the day and diligently worked to keep communication open between Jenn, us, and our lawyer. Carol's passion for adoption and for families is incredible, and it made us feel very cared for and special. When I hear of other folks who want to adopt, I tell them Everlasting is the only way to go. We couldn't have gotten through that emotional week without Carol's support. We are so thankful to her for her guidance and heartfelt interactions!
When we think about our experience and look at our beautiful daughter, we are reminded how blessed we are. When I stare at Mila, I'm often brought to tears with her beauty and the responsibility and gift I've been given to love her for the rest of her life. We didn't know how our adoption story would be written, but Mila's story is so much more beautiful than we ever could have imagined. Not only do we have her as a part of our family, but we have another new family member, Jenn, her birthmom. I love Jenn in a way that I never knew was possible and look forward to what our open adoption will look like for years to come. Adoption is a difficult decision for the birth parents, and we don't take that lightly. So as we move forward, we are so excited to care for Jenn as a part of our family as well. Thank you for helping us to be parents again Everlasting Adoptions. Special thank you to Carol as well for loving us as family throughout it all.