Congratulations to our proud parents, Andy and Peyton who began their journey with Everlasting Adoptions in December of 2016 and welcomed their baby boy 15 short months later! They began communicating with a birth mom who was interested in getting to know them in early September 2017. After some back and forth and with guidance from Everlasting's staff, it was clear to them that this match was not meant to be. Andy and Peyton were disappointed, but realized situations like this do arise and the right birth mom for them was out there.
Everlasting notified them a few weeks later that another birth mother was interested in getting to know them. Andy and Peyton were thrilled to be matched again so quickly, but they moved forward cautiously optimistic. As with most matches, challenges can arise along the way and Andy, Peyton and birth mom's experience was no different. With the help of Everlasting Adoption's staff, Andy and Peyton offered support and flexibility to birth mom when she faced uncertainty with her decision. Despite internal anxieties, they remained patient and gave her the space she needed. Their patience paid off and things were quickly back on track.
Andy, Peyton and birth mom's relationship continued to grow and they were even video'd in on the ultrasound revealing the gender of the baby. How thrilled they were to find out it was a baby boy! The time had come for Andy and Peyton to finally meet their baby. Andy left from Texas arriving in Arkansas to prepare for the delivery on March 19th; eagerly awaiting to fill the empty car seat behind him.
Despite experiencing a high risk pregnancy situation, birth mom delivered a healthy baby boy on March 22nd, 2018 at 11:17 am. Andy and Peyton were overjoyed to finally hold their baby boy in their arms. The adoption was officially finalized in Arkansas on March 28th,  only 15 short months after signing on with Everlasting Adoptions. The new family made their way home to start their lives together.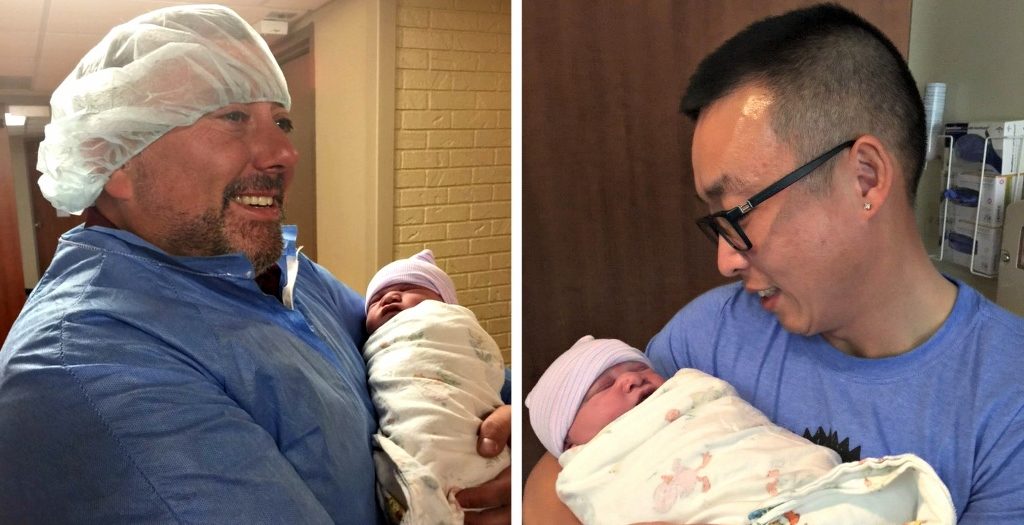 Thank you, Andy and Peyton for choosing Everlasting Adoptions to be the ones to guide you through the adoption process. We can't adequately express our gratitude to birth mother for her courage and decision to give her baby life. Spring brings with it a promise of new beginnings and we look forward to hearing about all the new beginnings Andy, Peyton and baby will share as a family of three.