How does Everlasting Adoptions help us?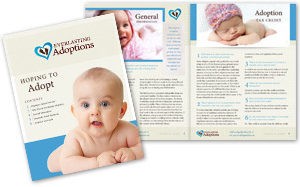 The service is very easy. Our service consists of a fee to the adoptive families who are interested in adopting. The fee is based on two full years of advertising, answering birthmother phone calls 24-hours a day, help in designing a personal profile, and presentation of the profile to birth parents until the families are connected in a successful adoption. This is an advertising & marketing fee, where prospective birthmothers have 24-hour access to our toll-free telephone lines to assist them.
We feel we have put together a program that works for both the birthmothers and the adoptive parents. We have combined the hands-on approach to adoption that our birthmothers desire; and for our adoptive parents, the security of an agency adoption.
All of our adoptions are assisted by a licensed agency. We will direct you to the agency we work with if you do not have a home study. Once you are connected with a birthmother, a social worker from an agency in her state will be assigned to your birthmother.
We will provide you with questions to ask the birthmother and what "red flags" to watch for. We allow the adoptive parents the option to decline a birthmother situation at any time, within the two-year period. Being a medium-sized office, we are able to spend more time working on coordinating a custom adoption plan to fit your needs, both personally and financially. We are here to help, guide, and direct you along the way to finding your birthmother.
The birthmother is presented with resumes from our contracted families. She then makes a decision on the adoptive family from those resumes. The family would then speak with the birthmother and meet in person, if possible. Once a "match" is made, the licensed agency would take over. It is not part of our service to become involved in either the legal work or the social work aspect of the adoption. If the adoption plan goes awry, due to perhaps the birthmother changing her mind or health problems with the child, we will continue our advertising efforts for the balance of the contract at no additional charge. We will direct you to a successful, safe adoption!
For more information, please fill out our Hoping to Adopt Info Request Form OR give us a call at 630-364-8361.
How long is the contract valid?
The duration of this agreement is two (2) years from the date of the Marketing & Advertising Contract, or at such earlier time that we are instructed by you, in writing, that you are no longer in need of our services.
What is the cost involved?
We charge a fee for services provided which is due with the signed Marketing & Advertising Contract. Please call 1-630-364-8361 for fee information OR email carol@everlastingadoptions.com.
Effective 1/1/2015, the Adoption Tax Credit is $13,570.00. Most of Everlasting Adoptions' families are able to benefit from this tax credit, which significantly reduces the cost of adoption.
Please note, you are not paying a "finder's fee". The majority of our fees represent the following:
Placement of the marketing & advertising, which will run continuously
24-hour toll free help-line
Assistance to the adoptive parents with the creation, design, and presentation of a personal profile
We arrange and coordinate telephone communication and meetings between the birthmother (if desired) and adoptive parents
Assistance in communicating with the birthmother, such as questions to ask her, and what "red flags" to watch for
The entire advertising process will ultimately depend upon where the adoptive parents and the birthmother are located. The majority of the birthmothers have some form of medical insurance. Usually Public Aid pays for most medical/hospital bills. We will provide referrals to local, state, and federal programs to help assist in financial support. Some states allow the adoptive family to support the birthmother through the later months of her pregnancy with 'pregnancy related' expenses. These expenses can include rent, food, utilities, medical needs, counseling and maternity clothing. Attorney's fees and agency fees are separate since they depend on the complexity of your adoption and your state laws. If you do not have an adoption attorney, please let us know and we can refer you to local adoption attorneys.
Is Everlasting Adoptions a licensed agency?
No. Everlasting Adoptions is a marketing and advertising company. We work with a licensed adoption agency to get your Home Study. We may act as an intermediary between birth parents and Adoptive Couples. Once you are connected with a birthmother, all of our adoptions are agency-assisted adoptions. Your adoption becomes an adoption between you and the licensed agency we use. This gives you the added protection our adoptive parents are always seeking.
Where do the birthmothers come from?
Many of our contacts come from the Internet, personal referrals, hospitals, churches, physicians, crisis centers, newspaper ads, schools, yellow pages, and attorneys. We network with associated professionals and by word-of-mouth.
What kind of contact would we have with the birthmother?
An adoption can mean many things. The majority of the adoptions that we are involved in are considered semi open. This means that the birthmother has had an opportunity to speak with you and possibly may have had an opportunity to meet with you before the baby is born. Most birthmothers will request letters and pictures after the baby is born. We encourage that the adoptive family be in the delivery room if all parties are in agreement, since this is, after all, a once in a lifetime moment! However, there are times when a birthmother will request a closed adoption and we will respect her wishes.
How long does it take to adopt through Everlasting Adoptions?
Our 'connection' times range from anywhere between 2 months to 24 months. There are some obvious decisions that could make your connection time much shorter. If you are open to race, gender, expenses, and birth location, your adoption process could move quicker.
Is there a fee to apply to Everlasting Adoptions?
There is no fee for you to fill out our application. You can fill out an application on our website, or you can request a packet to be sent to you.
Do we need a home study before we contract with Everlasting Adoptions?
Although you will need a home study to complete your adoption, you will not need one before you contract with us. You can work on your home study while Everlasting Adoptions is searching for your birthmother.
Do you have a waiting list?
Normally, we do NOT. At times we may have a waiting list. It may all depend on the race of the baby you are open to adopting.
Who can adopt through Everlasting Adoptions?
Everlasting Adoptions prides itself on having fewer restrictions than most adoption agencies. Beyond our age requirement of 25 years old, we have no religious belief requirement, and families with biological children are welcome to apply. The choice of adoptive families is made by the birthmother; so our families with children do as well as our families without children. We also work with couples who are working with another adoption agency/professional and have not had any luck yet. Please remember we review all applications to determine if we are able to help you.
How do we get accepted into Everlasting Adoptions Domestic Infant Program?
You may start by filling out our online application. All couples must have at least a phone meeting. There is no fee for this meeting.
Are all families successful in adopting?
Almost all of our families that have joined Everlasting Adoptions have been successful in adopting. We work very hard daily to make sure that every couple follows our program and has a successful adoption! We have great success in placing many of our families within a 2 year period.
What will our birthmother be like?
Carrying a child for nine months and then giving him/her to another family to be raised is a painful and difficult action. We have found that in order for a woman to plan this and then to carry through with her commitment, she must have some very motivating factors. Some examples of motivating factors can include, but are not limited to, a strong conviction that she is unable to raise this child, or perhaps the mother is in school and is so ambitious that she will not sacrifice her career for child rearing. More commonly, we have women who find it impossible to raise a child due to financial or emotional reasons. Perhaps the dysfunction is due to something that they themselves have endured or maybe they have several children already that they are raising on their own and they simply have nothing else to give. As a result, the birthmother of your child will, in all probability, not be as "together" as you are or as "stable" as your friends and neighbors. If they were, they would not consider placing their child for adoption. Keep this in mind; it is very important!