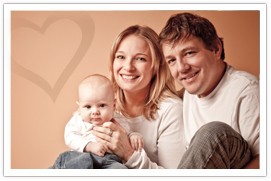 We are committed to building families through the miracle of adoption. We specialize, Nationwide, in Domestic Infant Adoptions.  Our reputation and experience is what brings prospective adoptive parents to us.  No one is a number at Everlasting Adoptions.  Each waiting parent/waiting family is treated as if you are our only family.  With our caring staff, we know personally the miracle of adoption!
Everlasting Adoptions will only work with a limited number of couples at a time.
Our company's size allows us to specialize in personalized service.
Everlasting Adoptions' aggressive marketing and advertising campaign results in shorter placement times.
We have had the incredible experience of working with birthmothers through their adoption journey. We are sensitive and aware of their needs.
We help you create an adoption profile.
We screen emails & calls for you 24 hours a day.
We refer you to Home Study Agencies and Adoption Attorneys.
Birthmothers come to us from our large advertising programs that include the Internet, personal referrals, crisis centers, newspaper ads, attorneys, and networking with other adoption professionals.
There is no Maximum Age limit for the adoptive parents.
We work with single parents, traditional couples and same sex couples.
We help families who have suffered through infertility as well as those who just want to open their hearts & home to a baby.
We allow the adoptive parents to accept or decline a situation at any time.