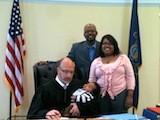 Dear Carol:
Jason and I are so blessed that God placed you in our lives. You are truly sent from above!!
Chareka and Jason
Congratulations go out to Chareka and Jason on the finalization of their adoption of Baby Mason. We are so happy for you!
Blessing to All of You from the Staff at Everlasting Adoptions!