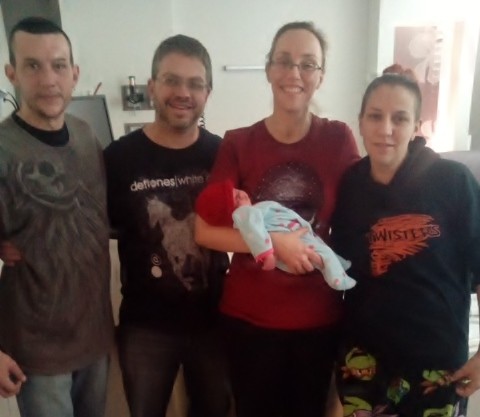 When Jennifer and her husband found out they were pregnant with their 5th child they knew in their hearts they could not keep her. As much as they desperately wanted to, they already had 4 beautiful children under the age of 8 and they felt it wasn't fair to any of their children to parent a 5th child. They felt adoption was the best chance to give all of their children the lives they deserved. Jennifer contacted Everlasting in August of 2016. Our director, Carol, shared her personal experience of adopting their son with Jennifer. This sharing instantly connected Jennifer with Carol, and reassured her that her experience was personally important to not only Carol, but everyone at Everlasting.
Carol helped Jennifer find the adoptive couple that was the right fit for her family. Jennifer said that she met Scott and Kirsten for the first time over dinner, and after that, they texted almost everyday. When it was time for delivery, they all rode to the hospital together! Jennifer delivered baby Tuesday Elise on February 7, 2017. Scott and Kirsten stayed in the hospital with Tuesday where they also spent their downtime with Jennifer hanging out and chatting.
Jennifer and her family have such a special relationship with Scott and Kirsten. They talk on a regular basis. They exchange updates monthly. Jennifer and her husband get pictures and updates on Tuesday Elise, and they send pictures and updates back on her siblings! Jennifer said that since their personalities are so similar, they would be best friends if they didn't live in different states!
When asked about her experience with Everlasting, Jennifer said it was great. She stated that anytime she ever had a question, the response was almost instant, and she never felt like she was bothering anyone even if the text or email was in the middle of the night. Jennifer said Carol was amazing!
If Jennifer could share one piece of advice with a birth mom wrestling with the decision to have an adoption plan or for a birth mom currently going through one, it would be to remember, no matter how hard it is, you're doing the best for your little one. She encourages fellow birth moms to not let anyone make you feel like you're not! She said that birth moms should also make sure they click with the family they choose and be open and work out details in the beginning; that way everyone knows if they want different things.
Jennifer says, "This was the hardest decision of my life but having the right couple made it a lot easier than it would have been."
We are grateful to Jennifer and her husband not only for their selfless act of love and the blessing she has given adoptive parents, Scott and Kirsten, but for Jennifer's willingness to share her story for other birth moms. It is our greatest joy at Everlasting to be part of this newly created family! We wish nothing but the best to Jennifer and her family!