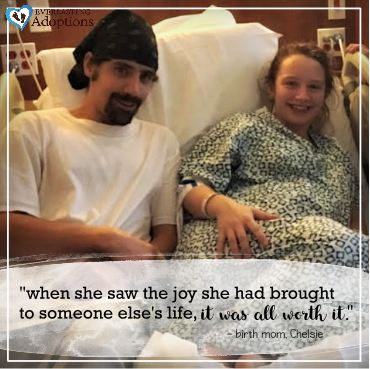 When Chelsie was facing an unplanned pregnancy, she felt in her heart that adoption would be the best decision not only for her unborn child, but for her son and daughter as well. Chelsie had been through alot and did not feel like she could parent her unborn son the way he deserved and without her other children having to make unfair sacrifices as well. In addition to the constant support from Everlasting, Chelsie was blessed with the support of the birth father, her family and her friends. Chelsie's experience with Everlasting was positive from the get go. She felt that the staff was helpful and constantly available. She was supported through continuous communication throughout the process of her adoption. Birth mother consultant, Lisa, sustained support through regular check-ins with Chelsie to make sure that any questions, fears or concerns she had were alleviated as much as possible.
When asked about the adoptive family she chose Chelsie simply states that she absolutely loves them. She felt connected and bonded from the moment they met and she could not have chosen a better family. It was of great comfort that her adoptive family, Adam & Christy, had adopted before, so they knew what to expect and had experienced this process before.
Chelsie wants other birth moms to know that adoption can be a very overwhelming, emotional and stressful experience but when she saw the joy she brought to someone else's life, and the overwhelming amount of love that the adoptive families have, it is all worth it. Chelsie states, "Even though this is the most difficult thing I have ever had to do, it has been the most wonderful experience. It was a blessing in disguise." Chelsie, we are the ones who feel blessed to have been a part of your adoption plan and had the opportunity to serve you. It was our privilege to support you!