Dear Ceal and Everlasting Adoptions,
Brant and I are so thankful for you and everything that you have done for our family. We started planning for a family right after our wedding in 2008. After six years of trying to get pregnant and watching as everyone else was able to start their own families. We longed to have a family. We decided in April of 2014 to start our adoption journey. We researched our options and that is when we found Everlasting Adoptions.
When we started out we were very well aware that adoption has its ups and downs. No matter how educated you are, it is still hard. Waiting became very trying. I was thankful for all of the support given by Sheila and taking my calls wondering why we had not been chosen. She listened to me and was always very supportive. After 10 months of waiting we received "the call". I will never forget the day Ceal called me to tell me that we had been chosen by a family to adopt their baby. It was February 25th, 2015. We didn't have much information only that we did not know the gender and that baby was due March 4th, 2015. Our life started a whirl wind of planning and preparing. We decided to fly to Las Vegas to be closer to Arizona when the baby was born. It was a few days before we heard from our Birthmother and were starting to think that it was a failed match. We had even decided to leave Las Vegas and go to California to visit family before coming home. However, on our way to California about 20 minutes out side of Vegas on March 5th I received the best email ever. It was from Lisa our birthmother telling us she couldn't wait to get to know us. We turned around and back to Las Vegas we went. We emailed back and forth all day. We had decided that we would travel to Phoenix the next day to meet the family that wanted us to parent their child. We were so nervous and excited to meet them. The next morning I emailed Lisa back to ask about what time she and her family wanted to meet and that is when she told us she was in labor. We left for Arizona right away.
During our trip Lisa had contacted Ceal to set up a birth plan, she asked us to be in the delivery room with her. We couldn't believe it! We had only emailed with her and she was inviting us into the most personal experience. We finally got to meet Lisa, her husband Cory at the hospital along with her daughter and son. We spent all night with them. I was able to hold her hand and talk her through contractions. We bonded immediately, we got to know each other very quickly. They told us why they chose us, to my disbelief the reasons why they chose were the reasons I was worrying that we weren't getting chosen. During that night we were able to spend time together and it was great.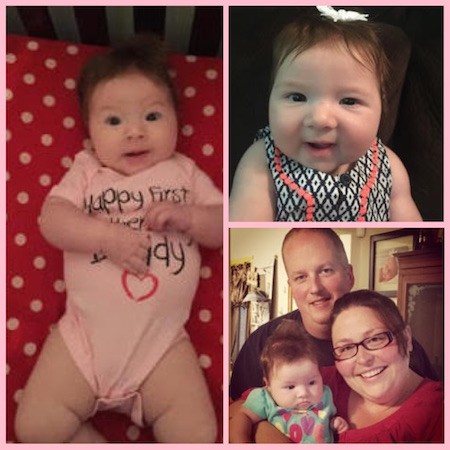 At 2:46 am our daughter was born, we were there to welcome her into this world with Lisa. It was amazing! When the nurses asked what her name was Lisa told me "she is your daughter you name her". We chose the name Sara Elizabeth after both of my sisters. We were able to hold her right away, I had the most amazing experience of handing Sara to her Birthmother for the first time. We brought our sweet Sara home about ten days after she was born. She has filled the hole in our hears. We know that God knew Sara was meant to be our daughter. She is perfect and we love her very much. Prior to meeting Lisa and her family we wanted only limited contact with the birth family. We changed our minds and we have a great relationship with all of them. We are blessed with such a great family that has given us such an amazing gift. We adopted in 10 short months, it was hard but worth every second. We love our experiences with Everlasting Adoptions and would recommend them to anyone wanting to expand their family with adoption.
Thank you,
Brant, Heidi and Sara